Over the past two years, the China-Africa Press Center, which is based in Beijing, has invited two groups of journalists from more than 10 African countries to China to participate in a variety of media events and witness firsthand the changes going on in China. Here, some of them share their experiences and views with China Daily.
China is the world's second-largest economy and the global leader in manufacturing. So it's no surprise it hosts some of the most important trade fairs.
During my 10-month stay in the country, I was privileged to attend some of the most influential trade fairs in China, including the China Import and Export Fair, aka the Canton Fair in Guangdong province; the Yiwu International Commodities Fair in Zhejiang province; the China International Fair for Investment and Trade in Fujian province; and the Beijing Auto Show. Other than the investment fair and the auto show, the Canton Fair was for me the best.
The Beijing Auto Show was unique in that, after the opening ceremony, the media was given its own day to get a feel for the cars. This was unusual, and members of the Fourth Estate thronged the China International Exhibition Center.
The annual Canton Fair is held at the massive China Import and Export Fair Pazhou Complex in Guangzhou, capital of Guangdong province. The fair is by far the largest in China in terms of products on display, attendance and the number of business deals signed.
I visited several booths and met visitors from different countries. Most were businessmen and businesswomen looking to source products.
Those from Africa were mainly interested in furniture, construction materials and electronics. China, of course, is Africa's largest trade partner, and these items top the list of goods exported from China to Africa through Guangzhou Port. Africa exports raw materials such as coal, iron ore and copper to China to help the country meet its need to sustain manufacturing growth. China also buys more than one-third of Africa's crude oil.
Just like other countries, African countries had booths at the Canton Fair and were marketing several products. For example, the Ghanaian booth had herbal soap and body lotion made from the best cocoa beans.
Cocoa is Ghana's main cash crop and principal agricultural export commodity. Ghana is second only to Cote d'Ivoire when it comes to cocoa exports.
The author is a PhD student at Kenyatta University in Nairobi and a freelance contributor to China Daily.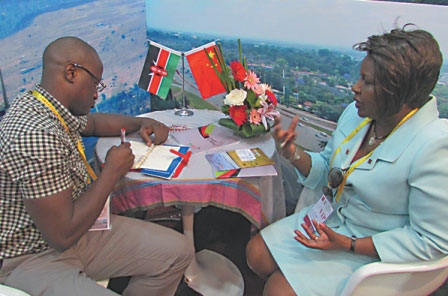 Philip Etyang interviews Deputy Speaker of the Kenyan National Assembly Joyce Laboso in China last year.